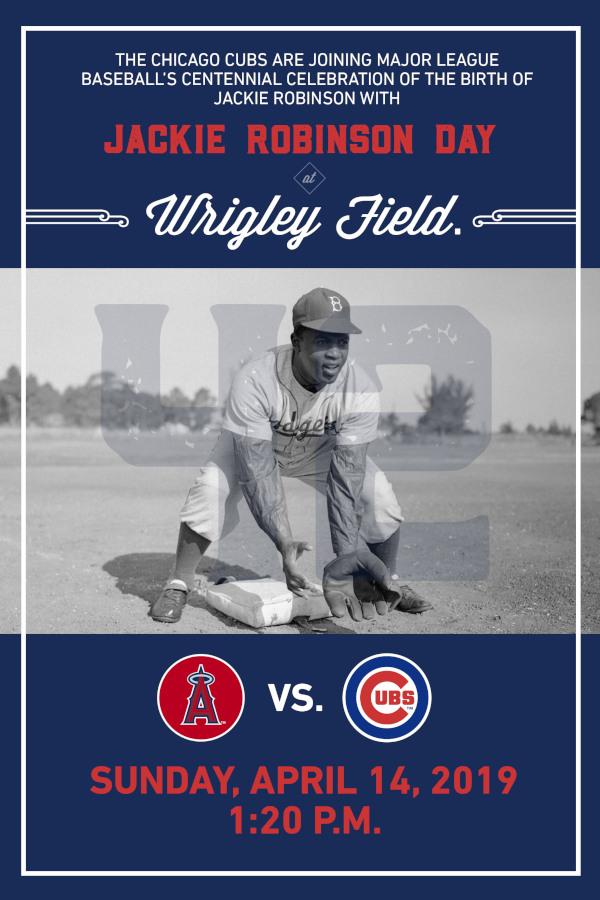 Email me your story to WilliamGMcCrayiii@gmail.com now! Follow me on Facebook William G. McCray III and ObnoxiousTelevision.com with William G. McCray III on Twitter @WilliamGMcCray, Instagram @SirWilliamGMcCrayIII, Periscope @SirWilliamGMcCrayIII to watch my live viedos and to keep up on the latest!!! CashApp $SirWilliamGMcCrayIII
The Chicago Cubs are joining Major League Baseball's centennial celebration of the birth of Jackie Robinson on the day we celebrate Jackie Robinson Day @ Wrigley Field Sunday, April 14.
This is going to be an amazing event celebrating an African American Trailblazer.  Those of you in the area be sure to join in the festivities.
JACKIE ROBINSON DAY @ WRIGLEY FIELD
In honor of Jackie Robinson Day, the Cubs are offering fans a special ticket offer for the Cubs-Angels game Sunday, April 14, at Wrigley Field.
Fans who purchase the Jackie Robinson Day special ticket offer will receive a Cubs baseball cap featuring Jackie Robinson's retired No. 42 and an image of him stepping up to bat at Wrigley Field in 1949. To purchase this special ticket offer, visit www.cubs.com/specialticketoffers.
A portion of net proceeds from the Jackie Robinson Day special ticket offer will be donated to Chicago's WESTSIDE JUSTICE CENTER, a nonprofit that focuses on providing legal education and holistic legal services.
PRE-GAME
In addition to the special ticket offer, the Cubs will hold a pregame ceremony to honor
Illinois Supreme Court Justice P. SCOTT NEVILLE, JR. with the Jackie Robinson Trailblazer Award.
On June 15, 2018, Justice Neville was sworn in as the second black justice in the Illinois Supreme Court's 170-year history.
AFTER THE GAME
Day party celebrating African American women in the Chicago legal community …
Budweiser Brickhouse Tavern (2nd floor)
Wrigleyville's #1 Sports Bar
@ Wrigley Field
Sunday, April 14
4 p.m. to 7 p.m.
Music by: Mark Flava
Join us in saluting and welcoming Cubs Counsel Shameeka Quallo (Rutgers Law) to the Chicago Cubs
Trailblazer co-hosts…
Helen Ashford (Thurgood Marshall Law – Texas Southern)
Tanya D. Woods (Loyola University Chicago Law), Executive Director, Westside Justice Center